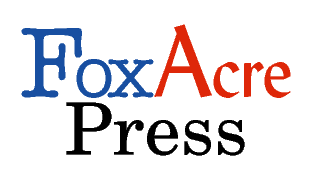 FoxAcre Press Artist Guidelines
Submissions:
We are always looking for new artists. Artists may send us printed samples of their work and/or images on CD-ROM or ZIP disks. They may also send us web addresses so we can view their on-line portfolios.
FoxAcre's Art Director is N. Taylor Blanchard. He can be reached via e-mail at taylor@foxacre.com or via regular mail at: N. Taylor Blanchard PMB 281 1977 North Olden Avenue Ext. Trenton, NJ 08618.
Cover Art:
Ultimately, all we need is an image file. Artwork can be in any medium (oils, acrylic, computer art, etc.) but must be proportioned so as to reduce to the cover size, usually 6" by 9". In order to allow for image bleed and trimming of the finished book, the final image should actually be 6.25" x 9.5", with no vital details in the 1/4 inch closest to any edge. If the artist chooses to have his/her art scanned or digitally photographed at his/her own expense and then sends us the file, the file must be a CMYK tiff, sized to 6.25" x 9.5" (or whatever the cover specs for the book are) and have a resolution of 300dpi. In this case the original art may be as large as the artist wishes.
If the artist chooses to have FoxAcre Press scan the original art, the image must be on a canvas or board no larger than 11" x 14", thus allowing us to fit the art on a conventional commercial scanner. The image must, of course, be proportioned to reduce to 6.25" x 9.5", or whatever cover size we are using on the book in question.
Interior Art:
At present, this is limited to the occasional map, diagram, or other simple line art, and we generally handle this in-house. However, future books might be appropriate for the use of interior black-and-white illustrations. You are welcome to show us black-and-white art as well, though please do bear in mind we don't expect to do much interior illustration.
Rights Purchased:
We want the normal rights to use the illustration, or the cover image including the illustration, both on the book cover and to promote the book and FoxAcre Press. FoxAcre Press uses on-demand printing, which makes it financially practical for books to stay in print indefinitely, even if only very modest numbers of copies are being sold. Our business plan anticipates having several hundred titles in print, each of which might only sell five or ten or a hundred copies a year in the later years of our access to the title. Therefore, FoxAcre customarily buys cover rights for a period of years, with a provision for the artist to then reclaim or resell those rights after the rights period by contacting us in writing. Our standard contract includes a clause permitting us to continue using the art after the initial rights period is over until and unless we receive written notice from the artist. This procedure is there simply because artists are a mobile group, and is intended to prevent FoxAcre's art director from having to spend all his time tracking down artists who have moved three times in order to renegotiate cover art rights for books that are selling ten copies a year. Write to us after our rights to your work have expired, and we'll gladly renegotiate for another term, or, if you wish, confirm that the rights have reverted to you upon request and cease using the art. Non-competitive use of the image by the artist is allowed and indeed encouraged.
Payment:
Our fees to artists might be in line with small press rates (in other words, they are modest), but we do pay in actual money, not in copies of the book or "professional recognition" or some other dodge. We also pay promptly, and provide a standard kill-fee structure.
Acknowledgement:
FoxAcre Press is eager to provide credit where credit is due. We generally credit our cover artists on the back cover (unless the cover design precludes this) and on the copyright page, and will gladly list an artist's website or other contact information (within reason) on the copyright page as well. In addition, we will list your website on our FoxAcre.Com's Authors and Artists page.
Please contact our art director at taylor@foxacre.com if you have any questions.